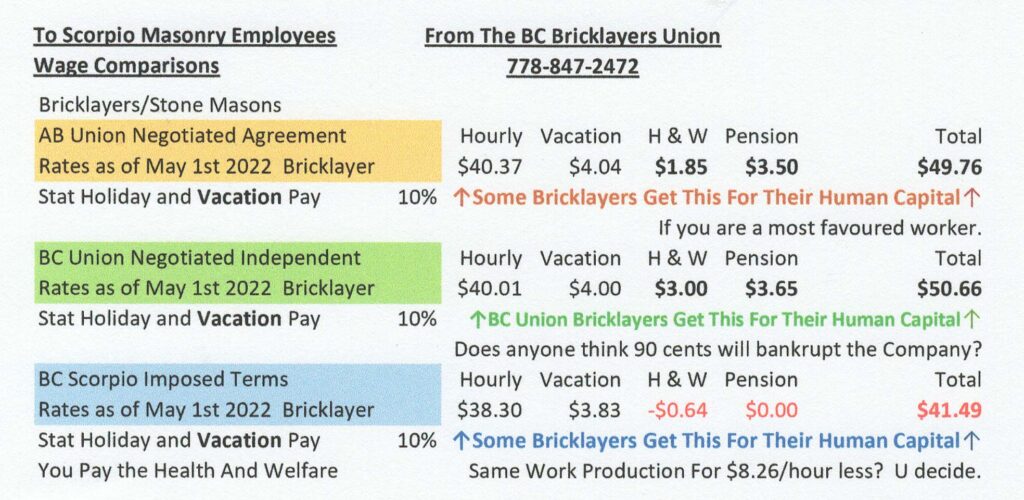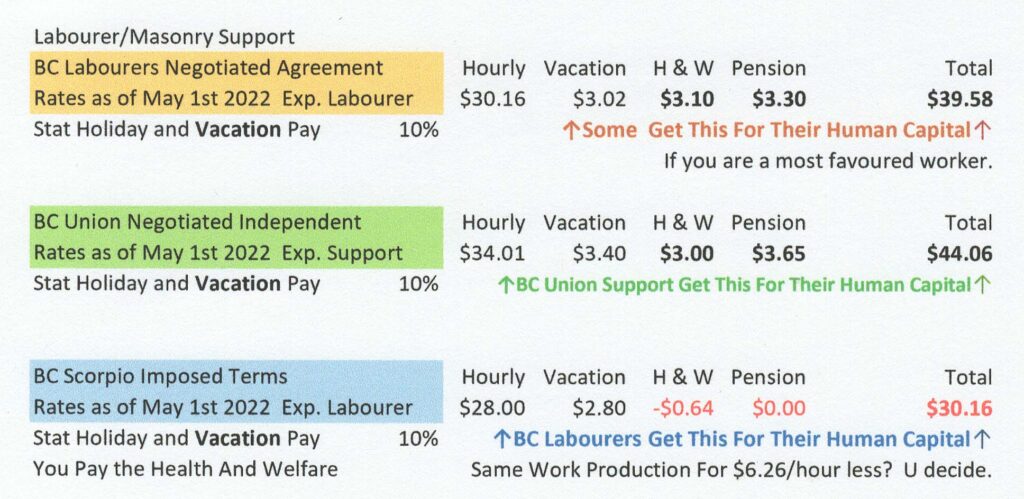 Look at the numbers. Some Bricklayers working for Scorpio Masonry BC are receiving the Alberta (AB) collective agreement rates. Some Bricklayers working for Scorpio Masonry BC are getting the Company imposed rates in the Blue Shaded area. The BC Union Bricklayers, the Independent Agreement is in the Green. The Labourers (Masonry Support Workers) also have a gap between what Scorpio pays and what the union rates are. The Support workers rate for Union Negotiated Independent Rates can go higher than 34.00 based on experience, and equipment tickets.
The company "men" may say "I'm telling you, if you go union we will have less and less work. In Alberta its union because 99 percent of the work is Union." Not so. I was an organizer in Western Canada for several years and part of my job was to go to non union sites in Alberta where brick work was being done. It is not 99 percent union. Without a doubt. The Industrial/Refractory may be 99 percent but the outside brick is not. The company is already paying Alberta Rates to some crews and paying them Living Out Allowance a minimum of 150 a day or hotel and 70. Yet they are paying you more than 8 bucks less? The numbers don't lie.
What about if I haven't gone to school? We run the school. Our union pays for your schooling. You can go to school outside of the regular training. We can decide to red circle your wage, so you won't make less. Give us a hard look and if you think the numbers are wrong call me and say hey, this aint so and then you and I can figure it out.
Negotiating the agreement. You decide. The workers on the job decide together. That's what a union is. But you have to do it together. You don't even have to join a union. Just Be a Union on the job. The company would rather have you fighting with each other. Get together and help each other. We are only as good as the lowest among us. Raise the Line. Call any time, or text, 778-847-2472, Geoff. Email is ghigginson@bac2bc.org .
If we have got something wrong here say so in the comments below. We'd be glad to explain.